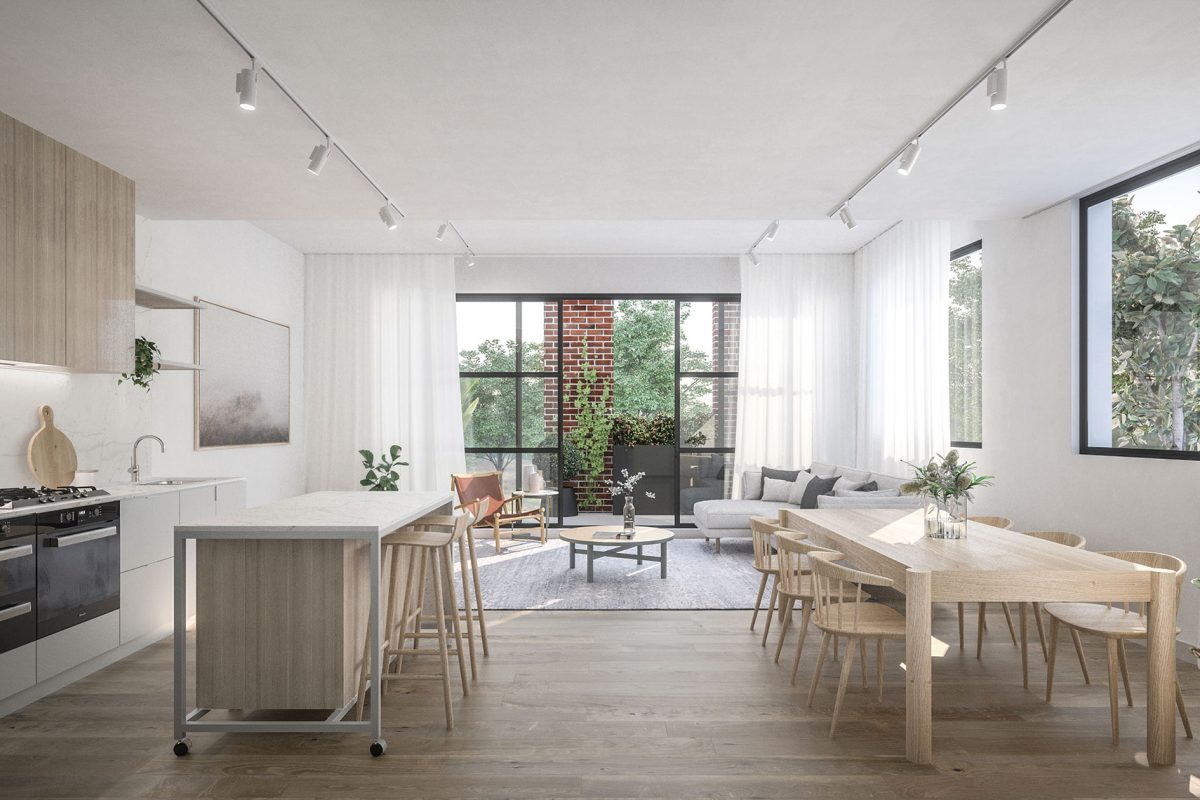 An expertly designed collection of stylish apartments, lofts and townhouses, Lt Hardiman Lofts is the ideal home for savvy young professionals seeking a hyper-connected lifestyle in Kensington – situated within close proximity to the Melbourne CBD.
Offering a collection of New York style 2 and 3 bedroom residences, Lt Hardiman Lofts is surrounded by an abundance of amenity. Close to the best of the inner-west, inner-north and the city centre, Kensington is quickly becoming one of Melbourne's trendiest and most highly sought-after locales.
Situated less just 4km – or than 15-minutes – from the Melbourne CBD, and just a 5-minute walk to Kensington train station, life at Lt Hardiman Lofts offers unrivalled convenience. Kensington is known for its tree-lined streets, abundance of café's and entertainment venues, and quiet, community-like atmosphere – a rarity within such close proximity to the city and the buzzing, culture-filled streets of the surrounding inner-suburbs.
"We've tried to celebrate that proud Kensington industrial history, the location, and the lifestyle advantages with an architectural design that respects and reflects the suburb," says Bo Chu, Design Director from Pitch Architecture.
"At the same time, Lt Hardiman Lofts doesn't have the feeling of an old building. Balancing heritage and modern design principles is always a challenge, but with this project, we truly embraced the best of both worlds combining the classic charm of old-world architecture with the luxury and convenience of new world function."
With ceilings reaching 3.2m and higher, generously proportioned living areas and bedrooms and ample storage space, Lt Hardiman Lofts are the perfect amalgamation of function and style. Every kitchen boasts a collection of Miele appliances, marble benchtops, and integrated fridges and freezers. The impeccably selected fittings and finishes further highlight the enhanced quality that emanates throughout every residence in Lt Hardiman Lofts, giving you a space you can truly be proud of.
Breathtaking views of Melbourne can be taken in from the stunning rooftop terraces, which extend resident's living space beyond their own private apartments.
Set to be another success story for Pitch Architecture + Development, Lt Hardiman Lofts has created a new standard in residential development design. Construction is commencing soon, and with the builders ready to break ground, there's no better time to snap up a piece of this enviable real estate.
Originally published on apartmentdevelopments.com.au.