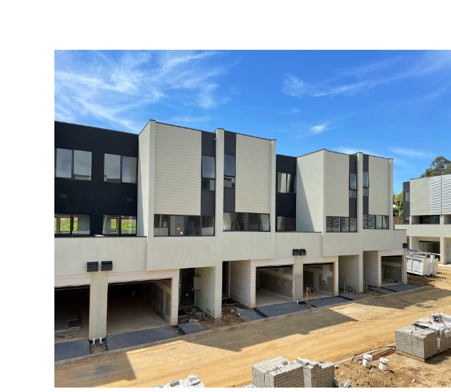 Welcome to the March update for Kinsfolk Townhouses.
Work is progressing however at a slower pace than anticipated.
External works are still progressing and slowly nearing completion.
The crossover on Chestnut road is scheduled to be poured next weekend, which means asphalt works can also be scheduled.
As a result, we anticipate on Council inspections for Statement of Compliance to occur towards the end of April after which the Plan of Subdivision will move towards the Titles office.
Completion is now anticipated for Late April/Early May with settlement to follow.
Purchaser inspections are anticipated for Early May.
Please note that all timings are anticipated and are subject to change due to unforeseen delays.
Please understand that an exact settlement date cannot be provided until the Plan of Subdivision has been registered and the Certificate of Occupancy achieved.
Bank Valuations are now open for all townhouses.
We are now in Phase Three – Bank Valuation