We trust you and your family are keeping safe and well. We are sure it is great relief that you are enjoying the many freedoms since the easing of the lockdown restrictions throughout the country.
We are pleased to provide you with our final update of our project status, and we thank you for your patience and understanding during the lockdown where it has unfortunately decelerated the progress of construction as the government had mandated workforce personnel onsite amongst other restricted imposed on the Victorian construction industry.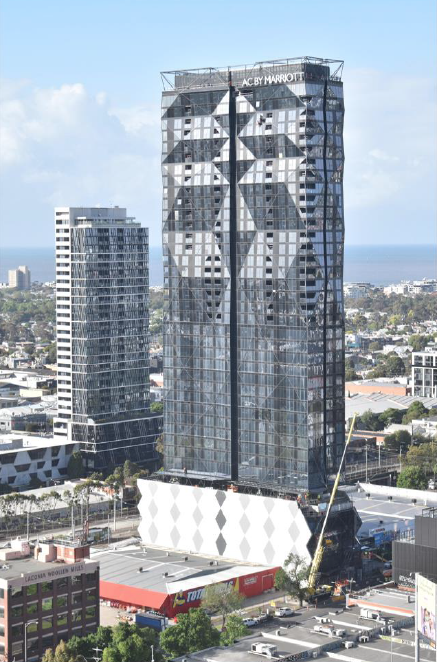 AC by Marriott Sky Signage Installation
We are proud to share that the AC BY MARRIOTT hero sky signage has been installed on the 40th level of our building. For your viewing, we have captured a film of this exciting milestone which can be viewed by clicking https://vimeo.com/user31824591.
Construction update and anticipated settlement
Construction is progressing full steam following the full re-instatement of workforce on-site in the wake of the COVID shutdown. Our Façade installation is now complete leading to steady progression of the internal fit-out to the apartments and the hotel which is nearing completion.
Installation of appliances to the apartments is also complete, coinciding with finalisation of island bench finishes as well as final touch-ups to the joinery wardrobe pieces.
The construction team are now putting the final touches to the hotel facilities including the water filling of the pool, AC Lounge, function centre, ground floor lobby and outdoor entertainment terrace.
As the building is near completion, we anticipate settlement to be called in the month of February 2022.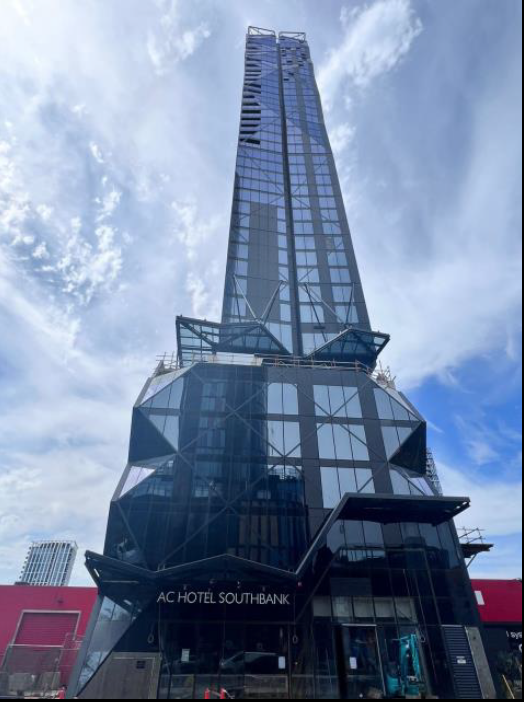 Valuation and Pre-settlement Inspection
We advise that we anticipate the valuation and pre-settlement inspection of your apartment to begin in late January 2022.
Please refer to the valuation inspections section below for more information.
Purchaser pre-settlement inspections will take place in line with your contract of sale conditions. Again, our team will contact you to arrange your inspection in the new year.
Defects rectification period
In your Contract of Sale, it is stated that the defects reflection period will occur for three months starting from the date of the occupancy permit is issued.
However, we have successfully negotiated to give residents an additional three months (now a total of six months) from the date of the occupancy permit is issued to ensure any potential defects have been reported and settled.
Please note, there will be a strict regime (fair use) on ensuring defects are genuine builder defects and not caused after settlement.
Valuation Assisting Information Pack
If you require finance, we encourage you to commence engaging with your broker or bank to prepare for settlement. To assist in the process, we will provide you and your bank's valuer with an independently commissioned, valuation information pack that highlights the unique nature of our building given its mixed-use nature and home to a Marriott International operated AC hotel.
Our valuation information pack will be distributed upon request from start of the new year. Should you require a copy for your apartment, please email us at customercare@capitalalliance.com.au.
And lastly, we advise that our valuation information pack is not a bank valuation report but simply a compiled information pack to assist in the valuation process.
Property Management
We understand most of our residents are owner occupiers, however, you will receive a call from us directly to discuss any potential leasing needs. As per the short-term leasing restriction section below, we must remind you again about the importance of maintaining the status quo of the building with AC by Marriott. Ensuring the appropriate tenants are sourced and maintaining the ban on short stay subletting (e.g. Airbnb). Therefore, it is critical that we discuss any leasing needs directly with yourself in due course.
As a first-time purchaser of Normanby Melbourne, we will be offering exclusive incentives to those who require property management services. To enquire, please contact our team on customercare@capitalalliance.com.au or call us on 0447 503 947 for more details or simply wait for us to contact you.
Window Furnishing
If you are looking for any assistance with the installation of blinds or curtains for your home, we would like to refer you to Stacey from Linten on stacey@hoganscurtains.com.au or 03 9888 2233. Hogans curtains is an approved supplier, and they are also supplying and installing the window furnishings to our AC by Marriott hotel.
Disclosure: We confirm that we have no agreement with Hogans Curtains in respect of any Developer incentives/kickbacks should you proceed with any installation.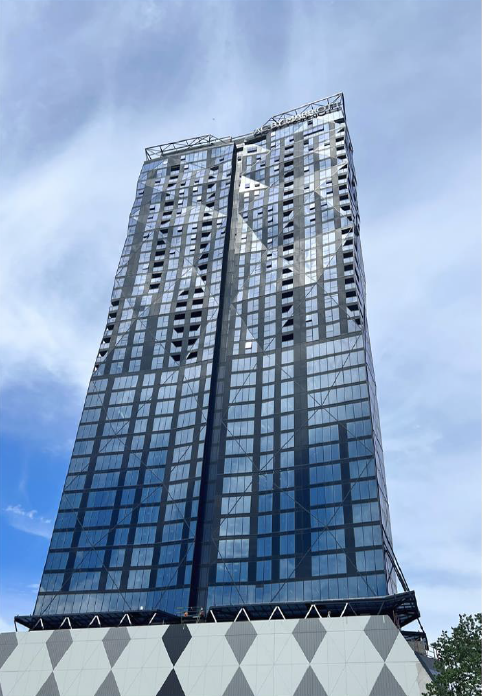 AC Hotel by Marriott opening and memberships for residences
As a private resident, living atop the hotel, you will be able to enjoy all the unique benefits that are available to you that comes with true hotel style living. All services and amenities, including the use of the infinity pool, sauna, spa and gymnasium, and other benefits from the hotel, will be available to you through an exclusive membership. You will receive a flyer with detailed information about the membership at the time of settlement.
Short-term leasing restrictions
We would once again like to remind all purchasers that all forms of short-term stay letting (or subletting), including but not limited to the likes of Airbnb, is prohibited within the building as agreed in your Contract of Sale. This applies to all residences to protect all owners via registered interest on title. This will maintain a level of certainty in ensuring liveability and safety for all residents.
Settlement Handover
The settlement handover package will be available for collection at settlement. The venue is yet to be confirmed. However, we will advise you once the location is confirmed prior to the settlement.
Once settlement is completed, please contact our team 0497 441 976 to book in a time for the collection of your keys and manuals!
Your contact details
Please ensure your contact details are up to date, so we can keep continue to keep you informed with the latest updates.
If you have any further questions, please do not hesitate to contact our team at customercare@capitalalliance.com.au.
We are looking forward to welcoming you home at Normanby Melbourne very soon.
Thank you again for putting your trust in Capital Alliance to deliver your future home at Normanby Melbourne, home to Australia's first built AC Hotels by Marriott.