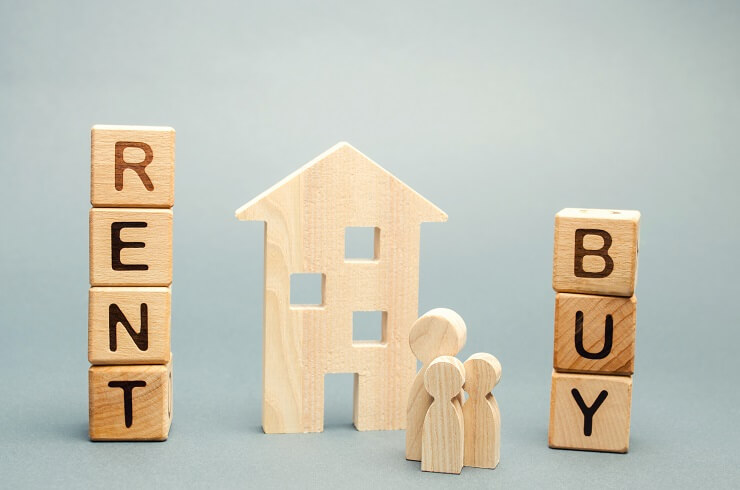 As the Australian housing market continues to roar back post-COVID – buoyed by low-interest rates, high consumer confidence, and escalating auction clearance rates – the decision to rent or buy has become a bit complicated.
While the decision largely depends on your circumstances, there are advantages and disadvantages that individuals eager to enter the market must consider.
We've put together the ultimate guide to buying versus renting. Read on to discover more.
Buying A Property
Own something that's yours
One of the strongest emotional gains of purchasing a property is that you'll become a homeowner – regarded as the Australian dream for thousands of people.
Buying a property means you've purchased something that's all yours – and nobody can take it away from you (apart from the bank, if you default on your loan).
Put simply – you have the opportunity to build the home of your dreams.
Whereas, if you're renting, you'll always be subject to your landlord's rules. Can you have pets? You'll need to ask the landlord. Pest control? Have to ask the owner. Plus, you'll always have to go through house inspections. You won't have to worry about any of that when buying.
Building equity
Property value appreciation (i.e. building equity) is a fundamental reason why people buy. If you buy a house, and the value increases, then so will your equity.
As demonstrated by the Australian housing market over the last decade, the capacity and potential for growth are strong.
While owners have to prepare for periods of market weakness such as during the Global Financial Crisis (-15%), long-term benefits can be reaped as the median Sydney property value soared by over 14% between 2015 and 2020, similar to other capitals cities Melbourne and Brisbane.
Tax benefits are also in abundance – whether the individual occupies the residence and avoids capital gains on their primary residence, or if they purchase a property as an investment and access tax-deductible expenses such as cleaning, insurance, and council rates.
Control over costs
When you're renting a property, your landlord can very easily decide to increase your rent. Most of the time, you'll either need to accept the increase or find another place to live.
You won't have that problem when you buy.
Yes, while home ownership is expensive, the costs aren't likely to suddenly increase unexpectedly by large amounts. If you take out a fixed-rate home loan, you may even be able to control those costs.
Opportunity cost
But there are downsides to buying property – and one of those downsides are unfortunately unavoidable costs of ownership.
Think about all the costs you have to pay for when buying a property – the transactional costs such as stamp duty, real estate agent fees, legal fees, and advertising costs. Plus the ongoing costs such as home and contents insurance, strata fees, and council rates.
Spending all that money means you're losing the opportunity to spend that money somewhere else.
And, yes – interest rates are currently low. But the Reserve Bank of Australia is predicting an increase by 2024, indicating repayments on a buyer's variable interest rate home loan will accumulate the longer the mortgage runs.
Failing to diversify your portfolio
If you prioritise buying property (and nothing else), you could also risk placing all your 'eggs in one basket'.
If you're looking to build a strong and diverse financial portfolio, you may wish to look beyond just property.
Think about alternative investments – regenerating a post-COVID-19 stock market, a burgeoning cryptocurrency market, or starting your own business (such as a side hustle).
A diversified portfolio can draw economic growth from a variety of sources, potentially providing stronger and more reliable long-term benefits.
Renting A House
Freedom to change
The best thing about renting is that it's easy to chop and change where you live.
If you purchase a property, however, it's much harder to let go. It takes a lot of effort to sell a property once you've bought it, but it takes hardly any effort to end a lease and move out.
If you're one of those people that loves change, hates staying in one place for too long, and doesn't want to be chained by a mortgage, then perhaps renting is best for you.
Check out our blog on 10 tips for renting your first house.
Diversifying risk
Unlike buying, renting provides you with the opportunity to free up savings to invest in other opportunities to make a greater return on alternative investment.
Diversifying an investment portfolio allows individuals to minimise and distribute potential risks. This option can provide demographics such as students or young families with more flexibility to pursue study or travel as opposed to directing their live savings and income into a house deposit.
Renting allows individuals to avoid two key risks associated with buying:
The risk of leverage which causes an individual's savings to be overextended if property prices decrease; and
Risking poor diversification of financial portfolio – renting and being able to channel finances into different sub-portfolios such as stocks allow individuals to spread risk more evenly.
Reduced maintenance costs
Being a renter means you won't be responsible for the expensive maintenance costs of owning a property – things like repairing major damages, pest control, and so on.
If you're lucky, you may even find yourself in an apartment or a house where the landlord has agreed to pay certain expenses, such as your water or electricity.
Rental costs
But beware – renting isn't always the best idea.
The current surging housing market, increased demand for flexibility, and rising inflation could very potentially lead to increased rent.
While mortgage repayments will be initially higher, attaining full ownership of a property can be more beneficial in the long term – as principal and consequent interest charges reduce.
Moreover, focussing money into an asset that will predictably grow over time and build you equity (rather than being funnelled into a landlord's pocket) can provide stability and long-term certainty.
What about 'rentvesting'?
Rentvesting in Australia is very popular – it's the act of purchasing an investment property, and then renting somewhere else. You're renting, and you're investing – hence the word 'rentvesting'.
It's about renting where you want to live and buying where you can afford it. The Australian Bureau of Statistics recorded that around 340,000 Australians are 'rentvestors'.
Rentvesting is an excellent idea for many people looking to enter the property market because:
It's an easier way into the market;
It allows flexibility, as you can still change where you want to live;
You can save money in the long-term by investing in a high growth area; and
You can reap the tax benefits of claiming tax-deductible expenses like body corporate fees, cleaning, maintenance, council rates, and so on.
Questions about renting or buying?
If you're looking for advice about the property market here in Melbourne, our real estate agents at Castran Gilbert know all the tips and tricks. We're based in beautiful South Yarra, but we service all of the city.
We can walk you through the process of buying or renting a property and provide tailored advice about which option suits you the best. Give us a call today so we can start discussing your next move.